Pohnpei Conducts First Live Gastrointestinal Endoscopy Consultation by Video Teleconference
By: Christina Higa, Co-Director, Pacific Basin Telehealth Resource Center
Pohnpei Hospital's Dr. Payne Perman makes history again! Today he conducted a gastrointestinal endoscopy in Pohnpei while a panel of experts from the Australian and New Zealand Gastroenterology International Training Association (ANZGITA) and Fiji School of Medicine offer real time advice and guidance by video teleconference.
The procedure conducted today was quite complex. It involved inserting an endoscope, a flexible tube with a light and camera, into the stomach. He also used a balloon dilator that was inserted into the scope and through the narrowing to widen it. This is a specialized procedure that is usually done by an experienced endoscopist.
To assure optimal video image and teleconference quality, Pohnpei hospital used a high definition camera and a new desktop screen so that the Pacific Island partners could be seen by the Pohnpei team during the procedure.
During the procedure, Dr's. Chris Hair; Mai Ling; Paul Clark observed and gave advice along the way. Experts were able to advise on what instruments and sizes of instruments to use as well as help with the next steps in managing this patient. Dr. Perman is a general internist, so having access to super sub-specialists (e.g., gastroenterologists) expands his health care delivery to the people of Pohnpei. Especially to patients without insurance and are not able to get help abroad.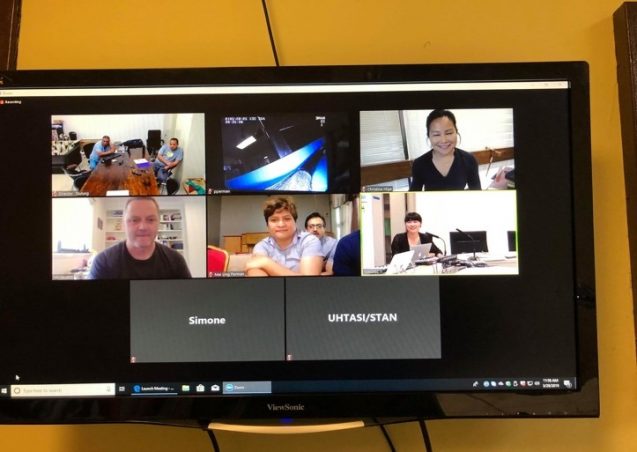 Dr. Perman said, "I would not have had the confidence to do this by myself and would typically have to refer these more complex cases off island; however, with the team of experts I was able to successfully conduct the biopsy and plan for next steps for the patient." Dr. Perman was able to gain the confidence because he had several experts looking on with him. At the same time, other participants who joined the telehealth session learned much by observing and asking questions. Other participants were from Kosrae, American Samoa, Fiji, Palau, Hawaiʻi, and even Japan.
The patient was very thankful to have had this opportunity to receive care from a team of experts and expressed his gratitude to the Pohnpei team for their good care. Today was a live procedure that benefited a patient and health care providers from around the Pacific that observed and learned together.
This was the 9th gastroenterology distance learning session that is coordinated by Pohnpei Hospital and conducted in partnership with ANZGITA; Fiji School of Medicine; and the Pacific Basin Telehealth Resource Center. Finally, the Leo Etscheit Foundation and FSM Telecom should be recognized for the continued support in providing the bandwidth necessary for the program.