How community health centers in the Pacific Region gained access to more than 500 physician specialists through telehealth
The Swinfen Network is a free healthcare telemedicine network that connects more than 500 physician specialists to resource-scarce health care systems around the globe. Providers volunteer their time for provider-to-provider consultations as part of the network. Thanks to opportunities made possible by the PIPCA-PBTRC Telehealth Initiative, six community health centers (CHCs) in the Pacific Region have been successfully added to the network.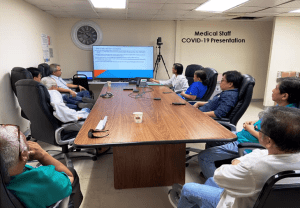 The initiative came about through a partnership between PIPCA (the Pacific Island Primary Care Association) and PBTRC (the Pacific Basin Telehealth Resource Center). The goal of the initiative: assist nine CHCs in the Pacific Region to facilitate the use of telehealth in their local communities. Achieving this goal meant more than using technology and providing services. It also meant building relationships and creating connections within the health and medical community.
To start, the CHCs identified an array of topics in which telehealth could assist to fill the gaps in their communities. These included Electronic Health Records/HIE, teledermatology, remote patient monitoring, and access to provider networks for resources, consultations, and continuing medical education. For the CHCs, building trust among lasting connections was of utmost importance, not just with the community they serve but also with specialists and outside providers delivering remote care or telehealth services to their population.
Thanks to existing relationships between key individuals, the idea of connecting these CHCs to the Swinfen Network began to take shape. Dr. Karen Rehuban, of the Mid-Atlantic Telehealth Resource Center, specifically suggested the Swinfen Network as a valuable resource overall and for the PIPCA-PBTRC Telehealth Initiative. It seemed like a perfect fit. Several hospitals in both US and non-US Pacific Islands were already existing users of the network, gaining access to much-needed specialists, resources, and guidance. These existing relationships help to build trust within the network and among providers, which allowed for further expansion and access to telehealth opportunities and services.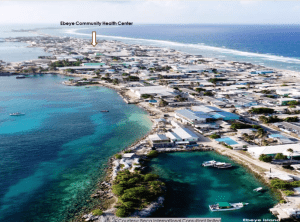 The nine CHCs of the PIPCA-PBTRC Telehealth Initiative were invited to apply to be part of the Swinfen Network. To date, six of the nine have successfully connected to the network. These CHCs include Wa'ab CHC, Kagman CHC (who had previously been connected to Swinfen Network), Chuuk CHC, Kosrae CHC, Ebeye CHC, and Tafuna CHC (American Samoa). While these relationships are in the early stages, the PIPCA-PBTRC Telehealth Initiative will continue its efforts to facilitate and identify pathways for CHCs to gain access to trusted telehealth service and networks so they may be able to address gap areas of service in their communities through telehealth.